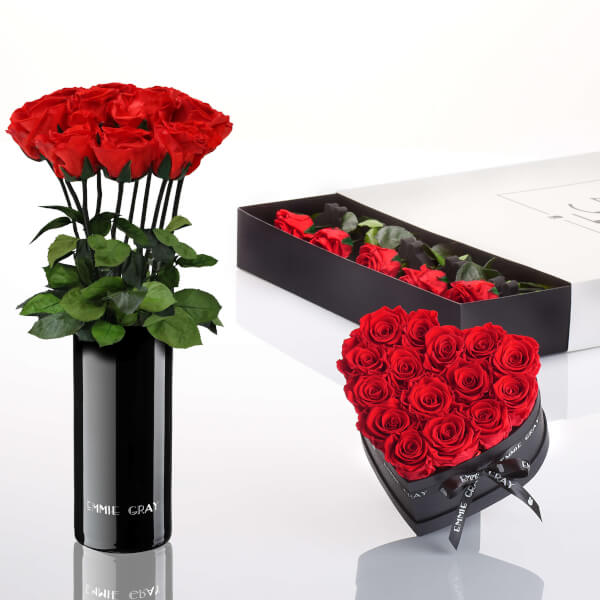 Our heart-shaped rose box provides the ideal gift for a special occasion or simply a nice surprise for those you hold dear. Treat your loved ones 'just because' with this special gift set in combination with our long-stem Infinity Roses. With a stem length of 50 cm, the striking beauty of the Long Stem Infinity Roses enchants the recipient at every occasion. This set is perfectly rounded off with the matching EMMIE GRAY glass vase, which is also suitable for other bouquets of your choice.
This exclusive set offered at special conditions contains: CLASSIC INFINITY VIBRANT RED (M) | LONG STEM INFINITY ROSES (10) | BLACK VASE
Box size in cm: 20 x 18 x 10
Vase: Ø 10 x 30 cm
Roses count: 16 ± 2
Roses count: 10
The natural roses of our Infinity Collection are preserved by means of a special method and last for one to three years. They are a highlight in any setting and give you years of pleasure.
Our heart-shaped rosebox is the ideal gift for special occasions or just for the moments in between for loved ones. Whether for a birthday, as a thank you, or simply out of love—with this unusual heart arrangement you can pamper your loved ones in a very special way.
Prices incl. VAT plus shipping costs
Available Delivery on requested date
incl. free greeting card
Order number:

RED-OVERDOSE-SET